All right! Now that we're actually doing this, I'm going to explain a little change to the system. You've probably noticed that your current location is listed on your Trainer Cards. That's because it's actually important now! Basically, the new mechanic is "Traveling". So, right now most of you are at Route 1. Once you beat a wild IP there (or catch it, doesn't matter), you'll get a little star right above that area on the trainer card. You're aiming to get three of them. So like, it would look like this: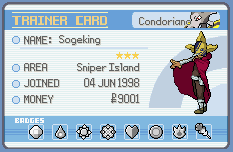 Once you have three stars for any given area, you can fight the gym leader that corresponds to that location. You can't move on to the next location until you've beaten that gym leader. So the progression would go like this: Three battles on Route 1 > first gym > route 2 > second gym > so on so forth. Three battles is the minimum, but you might want to do more than that before taking on a gym leader... Also, you can freely jump back to any area you've previously cleared, and you won't need to do your three battles again. That's just for advancing. The exception to that would be special areas like, say, Golden Fields or something like that. Once you start the side areas, you have to go through three battles, no free jumping around there. It's like how you can use Fly to get off a normal route, but once you go into that cave you can't. Also you don't have Dig or Teleport. Or Escape Ropes or anything. So you're totally stuck!
Well. There's that. Any questions, class? If you do have questions, then you're STUPID and you need to read the text again. ...No I'm just kidding I probably forgot to tell you something but it'll be on the test anyway.
_________________
"Irregardless" and "Over exaggerated" are NEVER CORRECT EVER because they are redundant
Regardless means "without regard", and adding "ir" on the front actually makes it a double negative; exaggerate means "to overstate" so you're literally saying "over overstate."
Example:
I can not
exaggerate
the importance of this fact enough,
regardless
of how often people ignore it.