Hey guess what I finally did something productive with my life.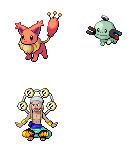 Enel is an edit of the Swimmer sprite from R/S/E. Enel's eaten a Devil's fruit and thus can't swim. On top of that, he lives on a cloud that floats 10,000 feet above the earth and has never been anywhere near actual water. Oh, the irony.
As for Shadowman's request... I set out to do it, and then I realized I have no idea what a grammar nazi looks like, much less how to convey it in sprite form. So I... kind of... didn't do it.
In other sprite-related news, I now have Shiny versions of just about every IPA ever, including the yet-unreleased IPA of the eight remaining gym leaders. And that's why you haven't seen any new sprites from me in ages.
_________________
"Irregardless" and "Over exaggerated" are NEVER CORRECT EVER because they are redundant
Regardless means "without regard", and adding "ir" on the front actually makes it a double negative; exaggerate means "to overstate" so you're literally saying "over overstate."
Example:
I can not
exaggerate
the importance of this fact enough,
regardless
of how often people ignore it.